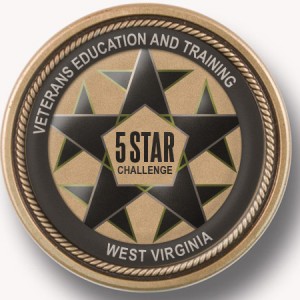 CHARLESTON, W.Va. – Education officials are stepping up their efforts to support the needs of West Virginia's student veterans. The West Virginia Higher Education Policy Commission (Commission) and West Virginia Community and Technical College System (WVCTCS) today announced the "5 Star Challenge," a call to action for the state's public colleges and universities to adopt a set of exemplary standards that support student veterans and their families.
The challenge is a tribute to the military tradition of issuing "challenge coins" to service members who exemplify the values and standards of their military units. Colleges and universities that accept the challenge will be presented with a "5 Star Challenge Coin" during ceremonies to occur the week of Veterans Day.
Institutions are set to accept the challenge by September 1, signifying their support for: 1) signed commitments from college and university presidents, 2) a focus on increasing access and affordability to higher education for student veterans, 3) increased academic support, 4) enhancing social networks for veterans on campuses, and 5) greater collaboration with community organizations working to meet the needs of military service members. A detailed outline of the challenge can be found by visiting cfwv.com, the state's free college- and career-planning website.
"Our military service members and their families have made enormous contributions to our state and our country," Dr. Paul Hill, Chancellor of the Commission, said. "The '5 Star Challenge' honors that service, addresses the very real need to provide a specific support system for our veterans as they pursue their degrees — and reaffirms our campuses' collective dedication to helping them succeed."
"Student veterans are an important part of our campus communities," Dr. Sarah Tucker, Chancellor of the WVCTCS, said. "They not only serve as an inspiration through their service to our country, but they bring valuable perspectives and life experiences to the learning environment. We are excited to announce the '5 Star Challenge,' as a way to honor our student veterans and service members and to renew our efforts to foster supportive policies and services that meet the unique needs of these individuals."
The 5 Star Challenge is an initiative of the Office of Veterans Education and Training Programs, within the Commission's Division of Student Affairs. In addition to issuing the challenge to campuses, the Commission and WVCTCS are committing to providing more outreach resources to help student veterans navigate the higher education system and find support on campuses and in the community. Over the course of the next year, the Division will work to provide enhanced online information portals, college-planning and financial aid guides tailored to student veterans and college fairs and outreach displays for military families.
###