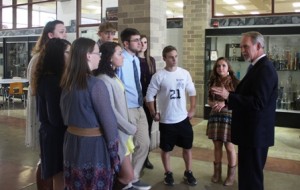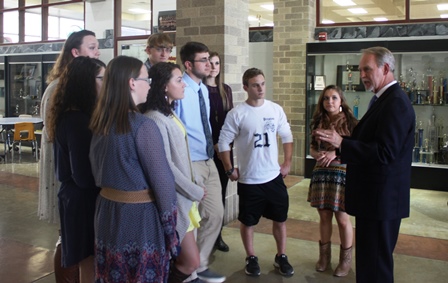 This week, Chancellor Paul Hill met with a group of juniors and seniors at Preston High School in Kingwood to talk about their plans for life after graduation – if and where they plan to attend college, what career paths they're considering, and whether financial aid and college access outreach programs are helping them along the way.
"These bright students have some incredible aspirations — to be engineers, lawyers, microbiologists and health care providers. I believe they have the drive to reach these goals, and we are working at the state level to ensure they have the support networks they need to succeed," Chancellor Hill said.
Students discussed the role the PROMISE Scholarship plays in encouraging them to stay in West Virginia for their college education, and how outreach initiatives like those provided through the state's free college- and career-planning website, cfwv.com, are helping them navigate the college-going process.
Chancellor Hill's visit to Preston High School coincided with the Higher Education Policy Commission and Community and Technical College System's joint announcement of a new shared goal to "Double the Degrees" awarded annually in West Virginia by 2025.
###