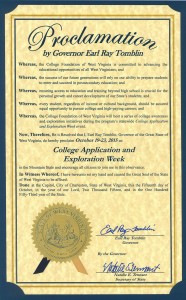 CHARLESTON, W.Va. – The College Foundation of West Virginia (CFWV) is coordinating college preparation help at more than 400 sites across the state, with Governor Earl Ray Tomblin officially designating this week as "College Application and Exploration Week."  Participating schools will host a variety of college-planning activities including college application workshops, classroom lessons focused on college awareness and planning, and panel discussions with current college students and employers. 
Students of all ages — from pre-schoolers to adult learners — will learn about the importance of pursuing higher education and the different types of college options available including certificate programs, career and technical programs, two-year degree programs, four-year degree programs and military service. Students who are of college-going age will work one-on-one with counselors, teachers, and volunteers on hand to help them complete admissions applications. 
"College Application and Exploration Week highlights our State's efforts to ensure that all students are college and career ready" Governor Tomblin said. "West Virginia needs more college graduates and skilled workers to meet the demands of today's economy and drive innovation in the future." 
CFWV is a college- and career-planning initiative led by the West Virginia Higher Education Policy Commission in conjunction with the West Virginia Council for Community and Technical College Education, the West Virginia Department of Education and the West Virginia Department of Education and the Arts. 
"College Application and Exploration Week offers a chance to celebrate our students' potential and assist them in pursuing their dreams," Dr. Paul Hill, Chancellor of the Commission, said. "Choosing to pursue higher education is a life-changing decision that will yield positive impacts for individuals and our communities for decades to come. A college education is a solid investment that provides students with the skills, knowledge and experiences they need to build a career and become productive, engaged citizens. College graduates tend to earn higher salaries, have access to health and savings benefits, and remain employed — even during economic downturns."
To learn more about College Application and Exploration Week, visit CFWV.com, the state's free college- and career-planning web portal. 
– ### –
Follow CFWV…
on Twitter – www.twitter.com/cfwv
on Facebook – www.facebook.com/collegefoundationofwv
on Instagram – www.instagram.com/collegefoundationofwv 
Related hashtags for College Application and Exploration Week:
#WhyIChose #ReachHigher