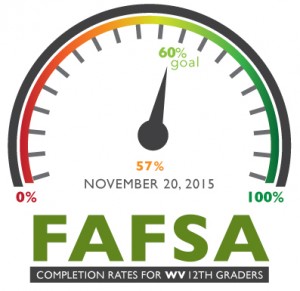 CHARLESTON, W.Va. – The College Foundation of West Virginia (CFWV) announced today that 32 high schools in West Virginia met or exceeded the State's 2015 goal for increasing the number of 12th graders who complete the Free Application for Federal Student Aid, or "FAFSA." 
In January, CFWV set a goal of ensuring that at least 60 percent of high school seniors complete the FAFSA, which is the primary application for state and federal financial aid for college, by September 1. 
"Completing the FAFSA is one of the most important steps in pursuing higher education," Brian Weingart, Senior Director for Financial Aid at the West Virginia Higher Education Policy Commission (Commission) and West Virginia Community and Technical College System (WVCTCS), said. "By completing this one form, students can be considered to receive thousands of dollars in grants — that's 'free money' that you don't have to pay back."
Students can complete the FAFSA anytime after January 1 in the year they intend to go to college. Filing the FAFSA allows students to be considered for the Federal Pell Grant  which this year provided students with up to $5,775 to cover the cost of tuition and other education expenses. Students who file the form before April 15 will also be considered for up to $2,600 through the West Virginia Higher Education Grant Program. Additionally, completing the FAFSA is a requirement of applying for State scholarship programs, including the PROMISE Scholarship. More information about these programs and other financial aid opportunities is available at cfwv.com, the state's free college-planning website.  
College and university partners across the state have been working with high school counselors to increase awareness of the FAFSA and help students and families complete the form.  
The following high schools met or exceeded the 2015 FAFSA completion rate goal of 60 percent by September 1: 
Bishop Donahue High School

Bluefield High School

Bridgeport High School

Buffalo High School

Cabell Midland High School

East Fairmont High School

East Hardy High School

Fayetteville High School

Frankfort High School

George Washington High School

Harman High School

Hedgesville High School

Hurricane High School

Martinsburg High School

Midland Trail High School

Mingo Central Comprehensive High School

Moorefield High School

Morgantown High School

Paden City High School

Paw Paw High School

Pendleton County Middle/High School

Pocahontas County High School

Point Pleasant High School

Ravenswood High School

Scott High School

Tucker County High School

University High School

Valley High School (Fayette County)

Wahama High School

Wheeling Park High School

Williamstown High School

Winfield High School
A complete list of FAFSA completion rates by high school is available at www.cfwvconnect.com/fafsacompletion.html. 
CFWV is a college- and career-planning outreach initiative led by the Commission in collaboration with WVCTCS, the West Virginia Department of Education and the West Virginia Department of Education and the Arts. 
– ### –
Follow CFWV…
Twitter: www.twitter.com/cfwv 
Facebook: www.facebook.com/collegefoundationofwv
Instagram: www.instagram.com/collegefoundationofwv