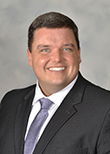 Dr. Chris Treadway serves as the Senior Director of Research and Policy, offering leadership within the Division of Policy and Planning to support the Commission's efforts to develop, implement and measure strategies and policies to improve college access, ensure student success, and promote positive economic impacts within our communities.
Dr. Treadway joined the Commission in 2015 as a Research and Policy Analyst, and prior to that, he served as Director of the West Virginia STARBASE Academy, a Department of Defense STEM outreach program hosted by the 130th Airlift Wing of the West Virginia National Guard. Dr. Treadway also works closely with the West Virginia Department of Education as coordinator for the West Virginia State Social Studies Fair. Additionally, he has served for nearly 10 years as an adjunct faculty member at the University of Charleston, teaching both online and traditional courses in science and math.
Dr. Treadway has a bachelor's degree in chemistry from the University of Charleston, a master's degree in information systems and a doctorate in leadership studies with an emphasis in higher education administration, both from Marshall University.  He also holds a private pilot certificate.