West Virginia students 'GEAR UP' for college during summer academy at West Virginia State University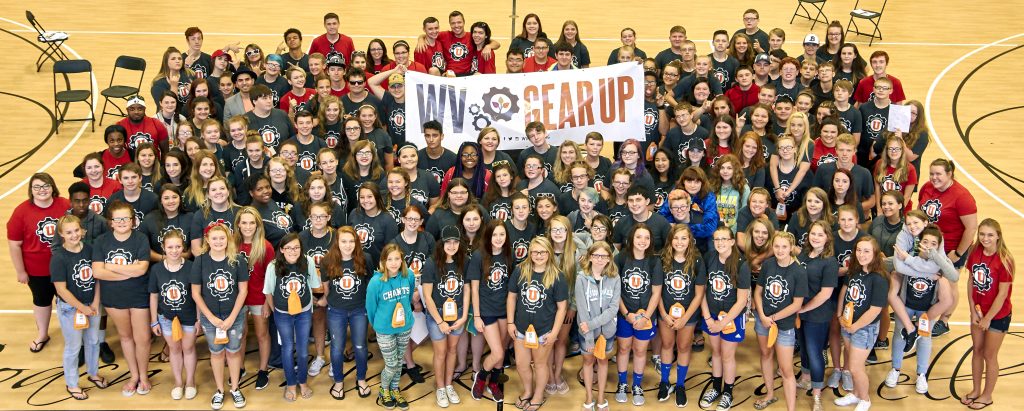 INSTITUTE, W.Va. – This summer, students had the chance to experience life on a college campus during GEAR UP U, a college preparation academy held June 22-25 at West Virginia State University. More than 130 students from central and southern West Virginia attended the event, which was hosted by the West Virginia Higher Education Policy Commission's federally funded "Gaining Early Awareness and Readiness for Undergraduate Programs (GEAR UP)" initiative. GEAR UP offers free services in ten counties to help more students enroll and succeed in higher education and advanced training programs. 
Students took classes taught by college professors, participated in leadership workshops and gained a firsthand perspective of what college is like through nightly mentoring sessions with current college students. During mentoring and leadership sessions, students focused on how to become the best version of themselves and to break through their insecurities to achieve their goals.
The following West Virginia students graduated from GEAR UP U: Nazar Abbas, Cora Adams, Chelsey Adkins, Taylor Adkins, Kayla Atkins, Katelin Atwell, Kaitlyn Bailey, Lakyn Bailey, Clayton Bain, Josiah Baker, Jackson Ball, Whitney Ball, Alyssa Barker, James Belcher, Logan Bennett, Emma Berg, Nathan Bias, Diana Birchfield, Savannah Black, Brendan Blankenship, Keagen Blizzard, Isaac Boone, Kaleigh Brown, Taylor Brown, Julie Brown, Kristine Brucal, Hunter Cantley, Bella Carte, Victoria Carter, Gabrielle Casey, Tabitha Casey, Anna Chambers, Trace Clark, Jordan Clendenin, Emily Cline, Bethani Cline, Bethanie Cochran, Britney Cochran, Molly Cook, William Cook, Hayleigh Cooper, Rylee Copeland, LaChrista Cregger, Denae Davenport, Sierra Davis, Emily Deal, Ryan DeBoard, Jaalah Dech, Juanita Dick, Dalton Duff, Madison Ellis, Zoe Evans, Ashton Ferguson, Tearsia Fischer, Jordan Fitzwater, Gavin Foster, Timberlee Fowler, Danielle Fultz, Victoria Galyean, Ciara Gauze, Aleah Gerwig, Chloe Graley, Catherine Green, Braxten Green, Ashley Grimmett, Holly Grimmett, Summer Harmon, Makenzie Harness, Tiffany Hatfield, Chloe Hatfield, Kaitlyn Haynes, John Hicks, Heavenleigh Holbert, Raquel Huber, Nathanial Jacobs, Caleb Johnson, Jovone Johnson, Rebecca Johnson, Breonna Johnson, Jordyn Justice, McKeehan Justus, Megan Key, Ciara Kidd, Caleb Killett, Tayllor King, Summer King, Makaila Knight, Clay Lester, Haylea Lockhart, Kayli Mann, Maliyah Martin, Delaney Maynor, Sarah McKinney, Serena Minor, Jessika Moles, Lucas Mullens, Kobe Nave, Baylee Niday, Rebecca O'Dell, Darian Perkins, Taylor Perry, Makayla Persiani, Ryleigh Pyszkowski, William Radcliff, Donald Robinson, Jordan Rutherford, Abigail Sampson, Steve Sartin, Sydney Satow, Renee Simms, Jordan Simpson, Caroline Smith, Katelynn Smith, Abigail Spence, Gavin Stanley, Kelsey Stewart, Ivory Stewart, Seth Strickland, Josh Taylor, Bristol Thompson, Hannah Toler, Sierra Toler, Stormy Trexler, Hannah Trippett, Hannah Tucker, Kimberly Turner, Timothy Vance, Zandrika Villers, Kyra Wallace, Hannah Warner, Brooklyn Warrix, Emmie Waugh, Courtney Wellman, Kensley White, Katlyn Williams, Sarah Wingrove, Sydney Woods, and Briana Wright.
West Virginia GEAR UP is funded by a grant from the United States Department of Education and provides college planning and readiness services to students in Boone, Fayette, Mason, Mercer, Mingo, Nicholas, Summers, Webster, Wirt and Wyoming counties. For more information, visit www.wvgearup.org.
###
Twitter: www.twitter.com/wvgearup
Facebook: www.facebook.com/wvgearup
Instagram: www.instagram.com/wvgearup