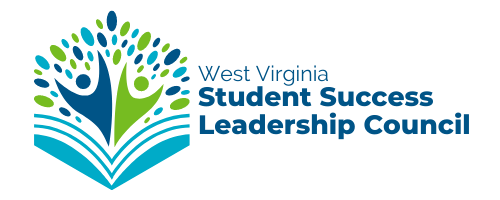 About
The West Virginia Higher Education Policy Commission, Community and Technical College System of West Virginia, and West Virginia Department of Education are excited to continue the convening of the West Virginia Student Success Leadership Council (WVSSLC). Comprised of secondary and postsecondary student leaders to generate a student-focused, statewide collaboration, the council will further a culture of college readiness in West Virginia. Through a virtual roundtable atmosphere, the WVSSLC will discuss topics including college readiness preparation and Free Application for Federal Student Aid (FAFSA) completion in the mountain state. The group will also participate in leadership training opportunities throughout the year and carry out a school/community-wide Call-to-Action plan that carries out the council's mission.
Defining College and the Application Season
"College" means any high-quality training beyond high school and includes certificate programs, career or technical programs, two-year associate's degree programs, four-year bachelor's degree programs, or military service.
Application season begins October 1st with the Free Application for Student Aid (FAFSA) opening. It continues into the early spring semester, with March 1st and April 15th as significant financial aid program deadlines in West Virginia. College Application season also begins around the same time, emphasizing the College Day Tour in September and October, with an increased emphasis during College Application and Exploration Week in early November.
Why This Matters
The workforce has changed, and most high-paying jobs require education and training beyond high school. Students have many options for postsecondary education, and it should be the ultimate path for all West Virginia students. Less than one-third of West Virginians hold an associate degree or higher, yet 60 percent of our working-aged West Virginians will need a certificate or degree to meet future workforce demands. There is work to be done. Preparing students takes a lot of knowledge and planning. States like West Virginia have many first-generation college students and must work harder to ensure they are ready for college education opportunities. The West Virginia Student Leadership Council has the power to help.
Goals of the WVSSLC
» Develop leadership skills of student participants.
» Creatively construct ways to motivate peers to apply to institutions of higher education, increase FAFSA application percentages, and promote application to state-level scholarship programs.
» Determine social media outlets, advertising venues, and the best communication methods with secondary and postsecondary students in  today's world.
» Provide secondary student mentoring opportunities by postsecondary student leaders related to the preparation needed for a successful transition to college.
Actions Steps
Student leaders will creatively construct ways in which they can motivate peers to apply to institutions of higher education, increase FAFSA application percentages, and promote application to financial aid programs.
» The WVHEPC and WVDE will gather information from students to determine social media outlets, advertising venues, and the best methods of communicating with secondary and postsecondary students in today's world.
» Postsecondary student leaders will utilize the time to discuss what they wish they would have known as secondary students as they prepared for the transition to college AND secondary students will be provided the opportunity to ask preparation-based questions of the postsecondary students. Postsecondary student leaders will also act in an advisory role to the high school leaders throughout the academic year as they continue their Call-to-Action plans.
WVSSLC Member Roles
Role of Collegiate Student Leader Advisors
The (State) Advisory Council of Students, the student body leaders of our higher education institutions, will take the role of Collegiate Student Advisors for the WVSSLC.
Role of Adult Advisors
WVHEPC Student Affairs representatives, WVDE representatives, superintendents, principals, counselors, teachers, and Student Body Advisors will take the role of Adult Advisors for the WVSSLC.
Role of High School Students
Current high school JUNIORS (class of 2023) will form to create the current WVSSLC. Each councilperson will hold their position until the spring semester of their senior year as they then work with the new members of the WVSSLC before graduating from high school.
WVSSLC Events
Annual March Introduction Meeting
The WVSSLC will convene annually every March virtually via Zoom. During the meeting, newly nominated council members will meet one another, many of the adult advisors, and the collegiate student leaders. Additionally,
they will participate in leadership training and in a WVSSLC round table to discuss to provide input on important statewide college access issues that West Virginia's students are currently facing.
College Culture Spring Project
To determine where the student leaders can make the most difference, they must first assess where they are. The representative from the WVSSLC will return to their school and with the help of their other student leaders will complete a College Culture Assessment to determine where they may be able to move the dial regarding helping their classmates with their college knowledge, choices, decisions, preparation, and ultimately the application season. Once the assessment has been completed, student leaders will work with their adult mentor and collegiate student leader to construct and carry out a College Culture Spring Project.
Student Success Summit
Student leaders may have the opportunity to participate in additional leadership training during the Student Success Summit. Additionally, student leaders may be asked to showcase their College Culture Assessment Projects to educators during the two-day event.
FAFSA Frenzy and College Application Week
Student leaders will be asked to develop a plan to assist their peers in an application season project that promotes submitting the FAFSA and admissions applications for postsecondary institutions.
New Recruitment Winter Project
Prior to the onboarding meeting of the new members of the WVSSLC, which will be scheduled annually in March, current members will work with adult advisors to prepare new members and a new student leader to represent their school on the council.
Council Meetings
The WVSSLC will meet periodically during the academic year in small groups with an adult advisor or as the entire committee. The purpose of the meetings will be to discuss upcoming statewide college access initiatives or provide opportunities to check on progress related to school/community projects. These will be virtual meetings.
Resources
WVSSLC College Going Culture Assessment Tool
Financial Aid Road Map Rack Card
FAFSA Completion Messaging Toolkit
Financial Aid Workshop Digital Toolkit