GEAR UP U! takes place at Marshall University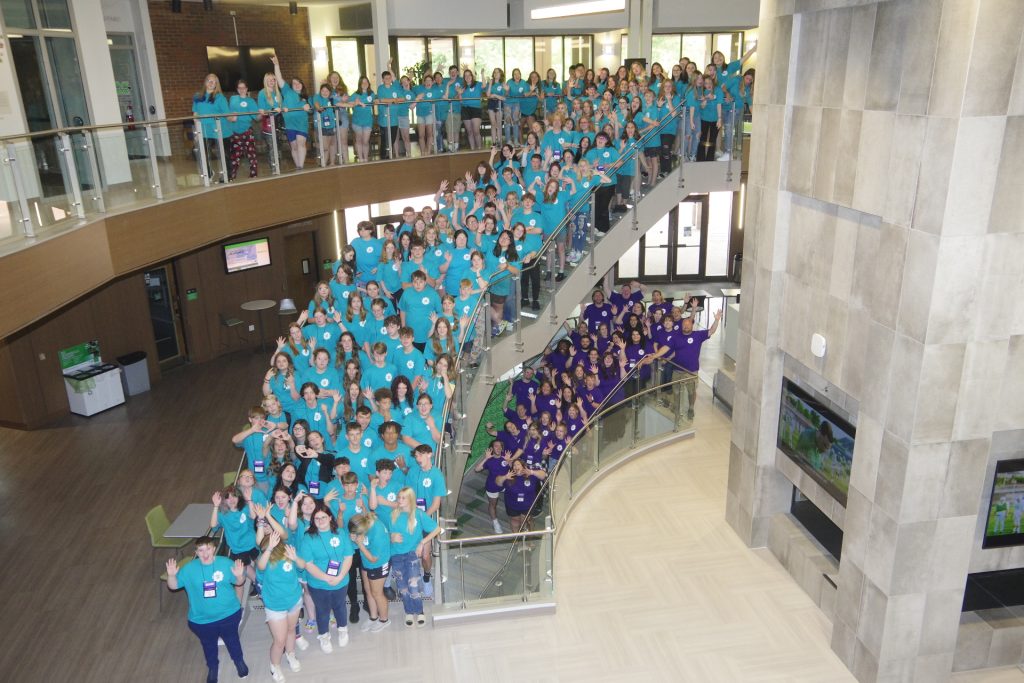 Huntington, W. Va. – West Virginia GEAR UP hosted the 2023 GEAR UP U! Summer Academy (GUU!) on the campus of Marshall University. The event was held June 21 – 24 with more than 150 rising 8th and 9th-grade middle school students. Students from across the state gathered at Marshall's campus for the college and career preparatory academy. GUU! is free for all participants and is sponsored by the West Virginia Higher Education Policy Commission's federally funded "Gaining Early Awareness and Readiness for Undergraduate Programs (GEAR UP)" initiative.
During GUU!, students are exposed to life on a college campus, participate in classes based on career interests, attend leadership and team-building sessions and engage in exciting and educational activities aimed at preparing and encouraging students to explore postsecondary options. Courses are designed to introduce students to various careers and postsecondary programs. In addition to educational and physical wellness courses, students engage in a variety of activities that allow them to interact with peers from across West Virginia and make lasting connections. Through daily near-peer mentoring sessions led by current college students, GUU! participants heard about their personal journey to college and how they can prepare for their future careers by pursuing postsecondary education and/or training.
"This year's camp was a great success," stated Mallory Carpenter, GUU! Camp Director and College Access and Success Program Director for the West Virginia Higher Education Commission. "For many students, this experience was the first time on a college campus. GUU! allowed these young students to not only make lasting friendships, but also gave them the opportunity to engage with higher education professionals and experience a taste of college life. It is vital to help students understand at an early age the importance of higher education. GEAR UP is an amazing and unique program that reaches students as early as 7th grade and gets them thinking about their future goals and career pathways."
The centerpiece of this year's GUU! was the exposure to Marshall University's campus. Students lived like college students by staying overnight in the campus residence halls, dined at the Harless Dining Hall, participated in activities at the campus Recreational Center and Joan C. Edwards Performing Arts Center, and took classes in various classrooms throughout campus – many of which were taught by Marshall professors.
"We are sincerely delighted to host this year's GEAR-UP Summer Academy," said Marshall University President Brad D. Smith. "As a first-generation college graduate myself, I know how important it is to expose young students to a college culture and the abundance of opportunity available to them. Working hand-in-hand with the GEAR UP team, our faculty and staff are committed to helping the next generation of students prepare for a successful collegiate experience."
West Virginia GEAR UP is a college access program funded by the United States Department of Education and provides college planning and readiness services to students in Boone, Clay, Lincoln, Logan, Mason, Mingo, Nicholas, Roane, Wayne, Webster, and Wirt counties. For more information, visit wvgearup.org.
Follow West Virginia GEAR UP on Facebook, Instagram and Twitter for daily updates and photos of GUU!