Higher Education Policy Commission recognizes Kanawha County high schools for college-going efforts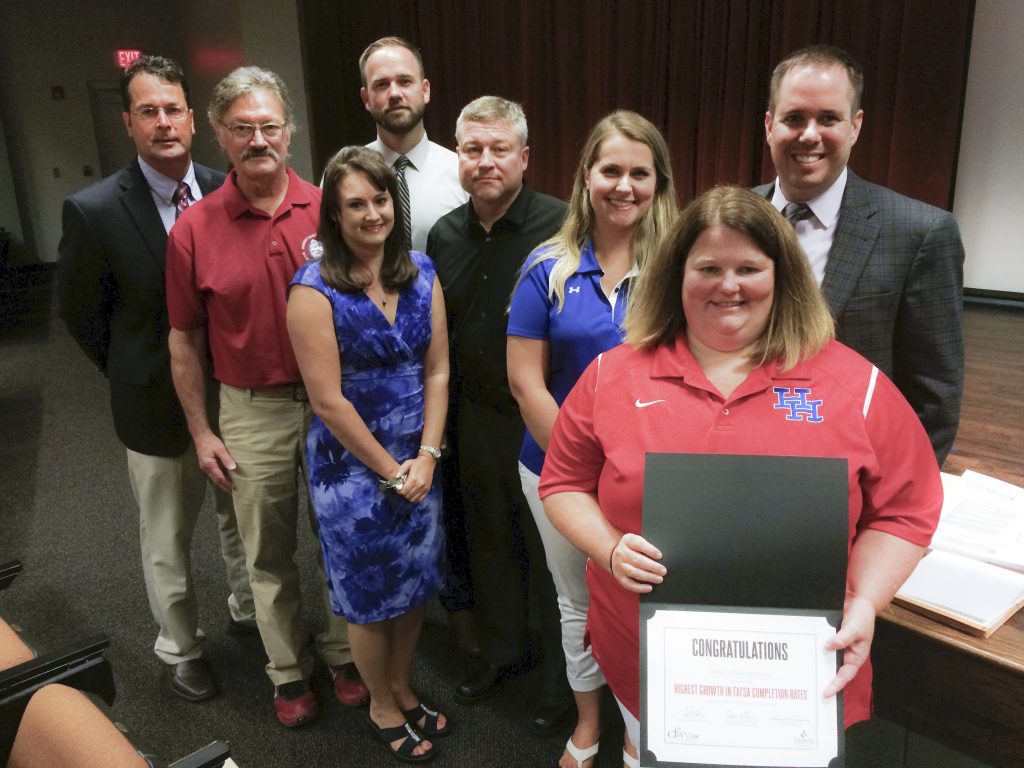 'FAFSA Completion Challenge' leads to more students applying for college financial aid
CHARLESTON, W.Va. – State higher education officials are applauding the efforts of Kanawha County high schools for their part in a year-long "FAFSA Completion Challenge" campaign, a countywide effort to increase the number of 12th graders applying for college financial aid.
During a training event for Kanawha County principals on Friday, representatives from the Higher Education Policy Commission (HEPC) joined Kanawha County Schools (KCS) Superintendent Dr. Ron Duerring to celebrate the results of the campaign, which led to a nine-point increase in the number of Kanawha County seniors completing the Free Application for Federal Student Aid, or "FAFSA."
Officials presented $1,000 monetary awards to Herbert Hoover High School and Sissonville High School. Herbert Hoover achieved the greatest gain in the number of students completing the FAFSA over the past school year. Sissonville High School was recognized for having developed the most comprehensive and creative strategy to encourage students and families to complete financial aid forms.
HEPC and KSC launched the FAFSA Completion Challenge in the summer of 2016 after winning funding for the effort through a grant from the National College Access Network (NCAN) and the Kresge Foundation.
Dr. Paul Hill, HEPC Chancellor, said FAFSA completion is a strong indicator of whether or not students will enroll in college.
"Ensuring more students complete financial aid applications is one of the most important steps we can take in expanding access to higher education opportunities," Chancellor Hill said. "Cost is always a major factor in a student's decision to attend college, and, sadly, research shows that many students who might qualify for financial aid are missing out because they don't apply."
Through its College Foundation of West Virginia (CFWV) outreach initiative, HEPC set a goal of ensuring that at least 60 percent of West Virginia 12th graders completed the FAFSA this year. More than 62 percent of Kanawha County seniors had completed the form by June 30 — up from 54 percent two years ago before the Challenge started.
"We're very proud of our school leadership, our parents and our students for the hard work that was put into this effort," said Dr. Duerring. "We want all of our students to understand and be able to prepare for all of the college and career options available to them. Completing the FAFSA is a big step in that process."
Area principals said the campaign helped them reach those students who need the most help.
"This project has made more students aware of the steps they need to take to pursue an education after high school," Michael Kelley, principal of Herbert Hoover High School, said. "Oftentimes, the students who need the help the most are the ones who don't apply. This project has helped raise awareness about financial aid opportunities among those students who are not necessarily knocking on the door of the counseling office."
"Many of our students face problems at home and other day-to-day struggles that get in the way of completing the FAFSA," Dr. Melanie White, assistant principal at Sissonville High School, said. "Having that strong push helps us catch those students and make FAFSA completion a priority, which in turn makes students more apt to pursue higher education."
Additional partners in the "FAFSA Completion Challenge" include:
The West Virginia Community and Technical College System
BridgeValley Community and Technical College
West Virginia State University
University of Charleston
The Education Alliance
The Greater Kanawha Valley Foundation
The Bob Burdette Center
The Human Resources Development Foundation
Daymark, Inc.
The Charleston Area Alliance
Generation Charleston
Students planning to attend college this fall can still complete the 2017-18 FAFSA online at www.fafsa.gov. The FAFSA for students entering college during the 2018-19 academic year will be available on October 1. For more information or free help applying for financial aid, students should visit the state's college-planning website at www.cfwv.com or call HEPC's financial aid staff at 877-987-7664.
###
Related social media accounts: @wvhepc @cfwv @kcboe