Report: More Mountain State students pursuing higher education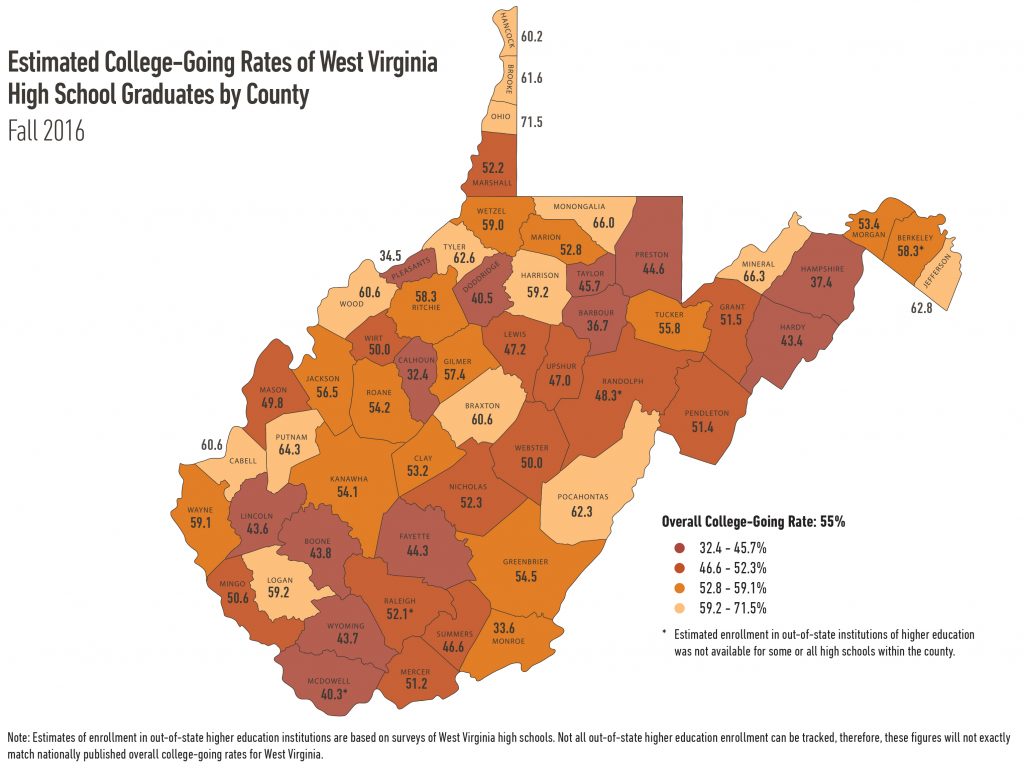 Braxton, Doddridge and Clay counties lead the way in improving college-going rates
Charleston, W.Va. – More West Virginia high school graduates went on to pursue higher education last year, according to a report released today by the West Virginia Higher Education Policy Commission (HEPC) and West Virginia Community and Technical College System (CTCS). The college-going rate increased for the second consecutive year, inching up by 0.3 percent — or 266 students — from 2015 to 2016.
"These gains, while subtle, represent a solid step in the right direction," Dr. Paul Hill, HEPC Chancellor, said. "For several years, the impact of the 2008 recession led to wide variations in college-going rates, not only in West Virginia but across the nation. Now that the economy is beginning to stabilize, we're more confident that the small strides we're witnessing represent genuine progress in creating a college-going culture in West Virginia — a process that takes time and occurs student by student, community by community."
Braxton, Doddridge and Clay counties led the state in achieving the highest rates of improvement in college-going rates from 2015 to 2016. Braxton County High School (Braxton), Magnolia High School (Wetzel) and Chapmanville Regional High School (Logan) showed the greatest gains at the school level. Ohio, Mineral and Monongalia counties had the highest rates overall. A complete list of rates by school and county is available at https://www.wvhepc.edu/resources/reports-and-publications/2016-college-going-rate/.
"West Virginia needs more college graduates to grow its economy and invigorate its workforce," Dr. Sarah Tucker, CTCS Chancellor, said. "I commend those high schools and school districts that are putting a real focus on helping their students pursue some form of postsecondary education. The future prosperity of our state depends on getting more students into college and ensuring they succeed and graduate."
The 2016 Higher Education Report Card, released last fall by HEPC and CTCS, also outlined gains in college retention and a record number of degrees awarded by the state's public colleges and universities.
HEPC and CTCS are charged with developing and implementing a five-year statewide strategic plan for higher education that includes a strong focus on improving access to higher education and promoting college completion and success. As part of this process, the agencies have in recent years launched a number of strategies that are proving to have an impact on higher education attainment.
For example, the federally funded "Gaining Early Awareness and Readiness for Undergraduate Programs (GEAR UP)" initiative provides college mentoring and planning services to middle and high school students in ten of the state's most economically challenged counties. The statewide College Foundation of West Virginia (CFWV) initiative offers information, including text message counseling, to help students navigate the college application and enrollment processes. And recent policy changes overhauling the delivery of developmental education and encouraging students to enroll in a minimum of 15 credit hours per semester are showing promising results toward raising college graduation rates.
###