West Virginia student HEROs inspiring their peers to reach higher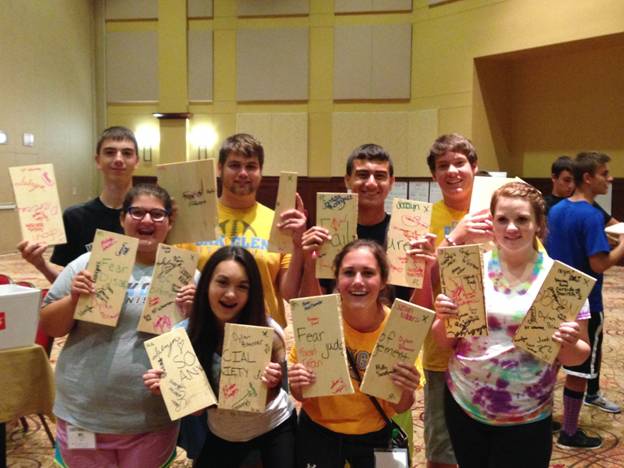 "My confidence has absolutely skyrocketed. I know being a HERO is going to be an important part of my life now and I really hope I can take my experience and positively impact other students' lives. When I return to school, I have every intention to talk to other students and spread the positivity that was spread to me." – Morgan Hicks, Oak Glen High School
Charleston, W.Va. – Thirty-one students from four high schools in West Virginia – Berkeley Springs, Hedgesville, John Marshall and Oak Glen – participated in last week's statewide Student Success Summit in Morgantown and returned to their hometowns ready to inspire their peers to pursue higher education. Now known as HEROs (Higher Education Readiness Officers), these 10th and 11th graders said they are confident they can help other students recognize their full potential.
"My confidence has absolutely skyrocketed. I know being a HERO is going to be an important part of my life now and I really hope I can take my experience and positively impact other students' lives. When I return to school, I have every intention to talk to other students and spread the positivity that was spread to me," said Morgan Hicks, a 10th grader at Oak Glen High School.
During the Summit, which was attended by more than 500 educators, administrators, faculty members, higher education representatives, military leaders and community members, the students engaged in "Youth Summit" activities to hone their leadership skills, overcome image-related fears, become positive motivators and learn strategies to build a college-going culture in their communities.
"This is about lifting up a group of already-inspirational students so they can lift up their friends," said Paul Hill, Chancellor of the Higher Education Policy Commission. "These young role models will motivate more West Virginia students to pursue their dreams by helping them overcome fears and gain confidence, and letting them know that college is within their reach – regardless of their circumstances."
The HEROs program originated through West Virginia GEAR UP, a federal program that helps students in 10 high-need counties prepare and plan for college. Continually expanding across the state, the HEROs initiative has been recognized nationally as a best practice in promoting college access and success.
The Student Success Summit, which is coordinated by the College Foundation of West Virginia (www.cfwv.com), is sponsored by the West Virginia Higher Education Policy Commission and the West Virginia Department of Education, with support from the West Virginia Community and Technical College System, the West Virginia Department of Education and the Arts, and the state's military service units.
MEDIA NOTES
The following students and advisors participated in the Youth Summit:
Berkeley Springs High School
Advisor: Amber Guthrie
Students: Starr Bowman, Chasten Clatterbuck, Cassidy Davisson, Elliot Lopp, Ciara McDaniel, Vanessa Reed, Shawn Weltz
Hedgesville High School
Advisor: Sue McGee
Students: Dylan Branner, Sabryn Franklin, Tafari Graham, Connor Hall, Sarah Catherine Hartiens, Hannah Longley, Ben Merzouk, Ashley Walker
John Marshall High School
Advisor: Jonna Kuskey
Students: Billy Fox, Brian Kotson, Alec Kuskey, Erica Perry, Brandi Powell, Dakota Spielvogel, Jenni Whitfield, Katie Whorton
Oak Glen High School
Advisor: Elissa Greathouse and Sherrie Garner
Students: Preston Campos, Jayson Chappell, Mathias Cook, Morgan Hicks, Jocelyn Nolder, Jordan Rodriguez, Molly Swartzmiller, Dakota "Cody" Warren
—
—
A high resolution video of the Youth Summit is available upon request.