Every behavioral health professional's journey is unique. Where will your pathway lead?
Thinking About a Career in Behavioral Health?
Careers in behavioral health involve providing important support and services to children, adolescents, and adults dealing with emotional challenges, behavioral problems, mental illness, life stressors, and substance use disorders. West Virginia needs passionate, dedicated behavioral health professionals — and that means a wide variety of in-demand job opportunities when you graduate and job security in the long-run.
If you are interested in a career in behavioral health, there are several possible educational pathways you can choose in West Virginia, including Social Work, Counseling and Psychology.
Join the Behavioral Health Workforce!
Get started on your path to a rewarding, in-demand career in positions such as: psychologist, social worker, mental health counselor, and substance use disorder counselor. Check out our Flipbook below for all the details on where to start and how to best plot your course to the career you want!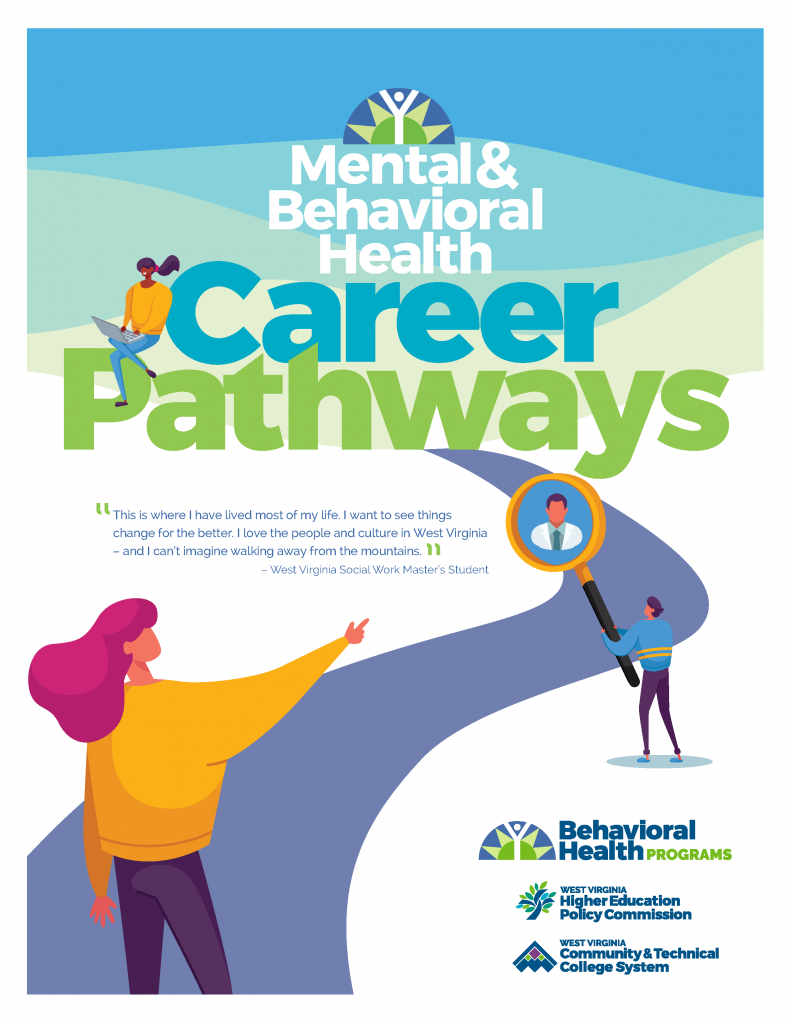 Explore education and career options with the WV Mental and Behavioral Health Pathways Guide.
Check out the Career Pathways Video Series.
Videos cover the following topics:
Learn About Educational Programs at WV Colleges and Universities
Counseling Students Discuss their Pathways
Psychology Students Discuss their Pathways
Social Work Students Discuss their Pathways
Professionals Discuss their Pathways
Student Videos were made possible by a project of the West Virginia School of Osteopathic Medicine Center for Rural and Community Health. In 2020, WVSOM Center for Rural and Community Health provided internship stipends for master's level students pursuing careers in behavioral health fields in West Virginia. The program was funded by the State Opioid Response grant and was designed to promote careers in behavioral health toward the growth of West Virginia's workforce.
Students were awarded stipends based on an application process and were invited to submit a video to share their experience in pursuing behavioral health education.