College Foundation of West Virginia sets goal to increase FAFSA completion rates to 60 percent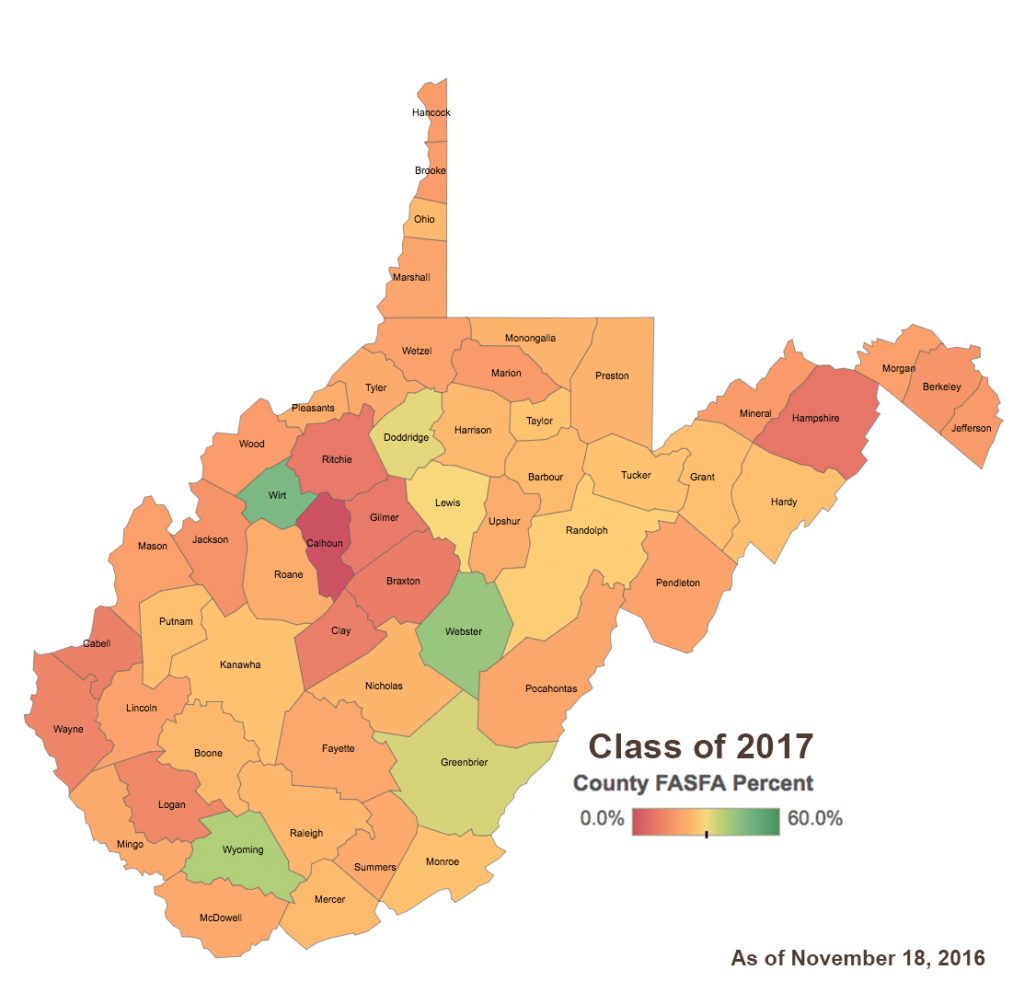 CHARLESTON, W.Va. – The College Foundation of West Virginia (CFWV) today announced a goal to increase the number of 12th graders who complete the Free Application for Federal Student Aid, or "FAFSA," to 60 percent by April 15. Students planning to attend college during the 2017-18 academic year can complete the FAFSA online now at www.fafsa.gov using their 2015 tax returns. April 15 is the deadline for students to submit the form and be considered for the West Virginia Higher Education Grant Program, which provides grants to students based on their financial need. 
This past year (as of November 18), 58.5%  percent of high school seniors in the class of 2016 completed the FAFSA, which is the primary application for state and federal financial aid for college. Forty-six high schools met or exceeded the 60 percent mark:
Bishop Donahue Memorial High School 

Bluefield High School

Braxton County High School

Bridgeport High School

Brooke High School

Cabell Midland High School

Cameron High School

Capital High School

Chapmanville Regional High School

Cross Lanes Christian School

East Hardy High School

Frankfort High School

George Washington High School

Greenbrier East High School

Hedgesville High School

Hundred High School

Hurricane High School

Jefferson High School

Keyser High School

Magnolia High School

Mingo Central High School

Nicholas County High School

Nitro High School

Paden City High School

Paw Paw High School

Pendleton County Middle/High School 

Petersburg High School

Pocahontas County High School

Ravenswood High School

Ripley High School

Ritchie County High School

Sissonville High School

Spring Valley High School

Tucker County High School

Tug Valley High School

Tyler Consolidated High School

University High School

Valley High School

Van Junior/Senior High School

Wahama High School

Washington High School

Webster County High School

Wheeling Park High School

Williamstown High School

Winfield High School

Wirt County High School
A complete list of FAFSA completion rates for the class of 2017 by county and high school is available at www.cfwvconnect.com/financial-aid-outreach. The list will be updated weekly as schools make progress toward the goal. 
According to a report from the White House, "The President's Plan for Early Financial Aid," an estimated 2 million students who are enrolled in college and would be eligible for federal grants are missing out on receiving financial assistance because they failed to apply. 
To help more students complete the process, the federal government made changes this year to give families more time and make applying easier. In past years, the FAFSA opened online on January 1, and students had to submit information from their immediate prior year's tax returns. This year, the form opened on October 1, and students can use their tax returns from 2015 instead of having to complete their 2016 returns first. 
"We want to make sure college is affordable for any student who desires to go," Dr. Paul Hill, Chancellor of the West Virginia Higher Education Policy Commission (Commission) said. "We are doing everything in our power to help students apply for financial aid and ultimately enroll in postsecondary education."
Dr. Sarah Tucker, Chancellor of the West Virginia Community and Technical College System (WVCTCS), said completing the FAFSA is one of the most important steps in preparing for college. 
"By completing this one form, students can be considered to receive thousands of dollars in grants from both the state and federal government — that's 'free money' that you don't have to pay back," Dr. Tucker said. 
Filing the FAFSA allows students to be considered for the Federal Pell Grant, which next year will provide students with up to $5,920 to cover the cost of tuition and other education expenses. Students who file the form before April 15 also will be considered for up to $2,700 through the West Virginia Higher Education Grant Program. Additionally, completing the FAFSA is a requirement of applying for State scholarship programs, including the PROMISE Scholarship. More information about these programs and other financial aid opportunities is available at cfwv.com, the state's free college-planning website.  
College and university partners across the state have been working with high school counselors to increase awareness of the FAFSA and help students and families complete the form. For example, staff from the Commission's office of financial aid are working together with financial aid staff at colleges and universities to offer hundreds of free financial aid and FAFSA workshops. A complete list of upcoming workshops is available at http://cfwvconnect.com/community-calendar . 
CFWV is a college- and career-planning outreach initiative led by the Commission in collaboration with WVCTCS, the West Virginia Department of Education and the West Virginia Department of Education and the Arts. 
###