Forty-five high schools across West Virginia recognized for their outstanding efforts to help students plan for college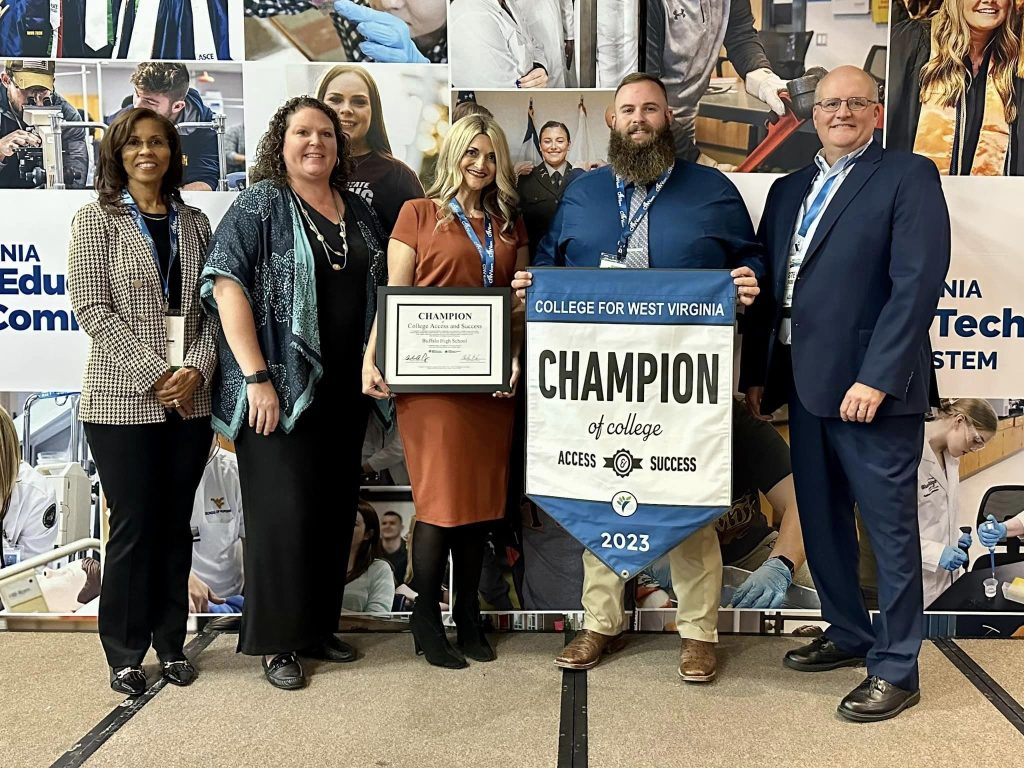 Principals and counselors receive 'Champion of College Access and Success' Awards
CHARLESTON, W.Va. – Principals, counselors, and staff from 45 high schools across West Virginia were recognized for their schools' efforts to inform students of higher education opportunities after graduation. The "Champion of College Access and Success" recognition awards are annually presented by the West Virginia Higher Education Policy Commission and the Council for Community and Technical Education to select schools that go above and beyond to help students and their families plan for college.
Representatives from the Champion schools attended an award ceremony at the Embassy Suites in Charleston, West Virginia. The award ceremony took place during the West Virginia Board of Governors Summit which included representatives from West Virginia higher education institutions and community and business leaders. During the proceedings, attendees were given the opportunity to discuss challenges facing postsecondary attainment in West Virginia and brainstorm creative solutions to increasing college access and readiness.
"The Champion for College Access and Success award is a chance to recognize schools and administrators that go above and beyond to help students receive all the necessary tools and information to be successful after high school," stated Dr. Sarah Armstrong Tucker, West Virginia's Chancellor for Higher Education. "As the professional landscape in West Virginia, and across the nation changes, it is vital that students have some form of postsecondary education or training. The schools recognized today are exemplary in their efforts to create a college-going culture."
For high schools to be considered a Champion of College Access and Success, they must participate in and meet certain criteria three college-planning milestone events during the school year:
College Application and Exploration Week
Free Application for Federal Student Aid (FAFSA) Completion Campaign
College Decision Day Initiative
Each of these milestones has specific components to help college-bound students in West Virginia prepare for and make the transition to college. The Higher Education Policy Commission, together with the West Virginia Council for Community and Technical Education, provide financial aid and college application information, training and support to high schools, as well as event-planning assistance.
The schools receiving the Champion recognition are:
Buffalo High School
Chapmanville Regional High School
Cross Lanes Christian School
Doddridge County High School
Fairmont Senior High School
George Washington High School
Hampshire High School
Hannan Junior/Senior High School
Hedgesville High School
Hundred High School
Hurricane High School
Keyser High School
Lewis County High School
Liberty High School (Raleigh)
Logan Senior High School
Magnolia High School
Mingo Central Comprehensive High School
Montcalm High School
Morgantown High School
Nicholas County High School
Paw Paw High School
Philip Barbour High School
PikeView High School
Poca High School
Point Pleasant Junior/Senior High School
Preston High School
Ripley High School
River View High School
Scott High School
Shady Spring High School
Sissonville High School
Spring Valley High School
Summers County High School
Teays Valley Christian School
Tug Valley High School
Tyler Consolidated High School
University High School
Valley High School
Van Junior/Senior High School
Wahama Junior/Senior High School
Wayne High School
Webster County High School
Winfield High School
Wirt County High School
Wyoming East High School
In 2018, Gov. Jim Justice set the goal to have 60 percent of the state's workforce with a formal education credential beyond high school by the year 2030. That statewide campaign, known as "West Virginia's Climb," is a collaborative effort among the Higher Education Policy Commission and the Council for Community and Technical Education, the West Virginia Department of Education, WorkForce West Virginia, and the private sector.
For more information about Champions of College Access and Success and college planning events, visit the College for West Virginia website at cfwvconnect.com/champion.
College for West Virginia, the student services face of the Higher Education Policy Commission and the Council for Community and Technical Education, is a partner in West Virginia's Climb.
To view photos from the Champion of College Access and Success Awards Ceremony, click here.